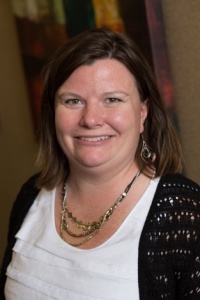 Sarah Larson joined Landon Group in 2015, bringing over 15 years' experience in, and a passion for affordable housing. She works with for-profit and nonprofit developers pursuing affordable housing developments, with a particular focus on supportive housing for Minnesota's most vulnerable populations.
Sarah has an extensive background in affordable housing. She gained skills in project management, financing and construction management over an 11-year tenure at Project for Pride in Living and seven years at Beacon Interfaith Housing Collaborative. Sarah has completed new construction and rehabilitation projects throughout the metro area. Her projects ranged in size from single family homes to multi-family rental buildings with budgets in excess of $20 million.
Sarah has successfully layered funding from multiple public sources including Low-Income Housing Tax Credits, Federal Home Loan Bank, HUD 202, HOME, CBDG, Met Council, Tax Increment Financing, and other state, local, and private sources. She has experience in all aspects of a development project, including site selection, acquisition, entitlements, predevelopment funding, building design, environmental remediation, financial modeling, closing and construction.
Sarah holds Bachelor degrees in Architecture and Social Thought & Analysis from Washington University in St. Louis.
Recent Projects:
As Project Manager of the Sabathani Senior Housing development in Minneapolis (50 affordable rental units), Sarah's role includes:
Helping to shape the development team and guide the project from acquisition to completion;
Securing financing from local, state, federal and private sources;
Coordinating all aspects of this complex, high density development while balancing the needs of the nonprofit developer and the community.
As Financial Consultant for the Minneapolis Public Housing Authority's Minnehaha Townhomes development in Minneapolis (4 buildings, 16 townhomes), Sarah's role includes:
Fully understanding the unique opportunities and challenges inherent to the Public Housing Authority;
Coordinating financial structure by applying for and securing public financial commitments;
Coordinating financial closing among numerous lenders.