1310 Frost Avenue, Maplewood, MN 55109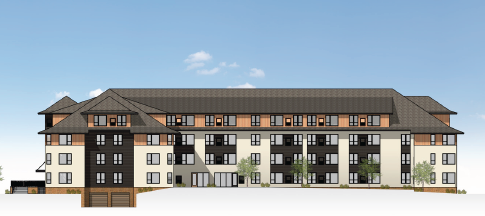 Landon Group role: financial analysis, secure financing, and provide project management services
Minnesota Housing mortgage; 9% Low Income Housing Tax Credit Equity; Deferred financing from Minnesota Housing, City of Saint Paul
60 affordable rental units
$16.8 million
Frerichs Construction
Urbanworks Architecture
JBVang Partners proposes Gladstone Village, 60 affordable units serving households with incomes at or below 50% of the area median income.  Unit sizes range from one- to three-bedrooms and will be marketed to families.  Eleven units will be set aside for supportive housing with services provided by Simpson Housing. Not typically the norm, JBVang has been mindful in choosing the unit mix to encourage multi-generational housing. The family-friendly building will have gathering areas inside and out including community and recreation space that will open into the playground with a picnic area.
JBVang is partnering with Hmong American Partnership (HAP) to create a unique, service rich environment. Founded in 1990, HAP focuses on empowering refugee and immigrant communities through various programming, from workforce development to health and wellness.  HAP staff will offer their services at Gladstone Village's common spaces.
In 2007, the Gladstone neighborhood was selected as a priority redevelopment area by the City of Maplewood. The 2007 Neighborhood Redevelopment Plan included a call for investment in affordable housing, parks, trails, transit and retail. Ramsey County is building the Rush Line Bus Rapid Transit (BRT) through Gladstone, within ¼ mile walking distance from this site. The BRT will connect people to jobs, education, healthcare and recreation destinations, and promote economic development in the neighborhood.
JBVang Partners is a certified Minority-Owned Business Enterprise (MBE), founded in 1984, and formerly known as JB Realty. Over the past 15+ years, JBVang has increased its services to include real estate development, tenant representation, construction management, financing, and owner's representation. The firm has developed over 900,000 square feet of real estate, totaling more than $275 million. JBVang has focused on a wide variety of projects including educational facilities, retail, office, industrial, tribal facilities, and various types of senior housing developments.