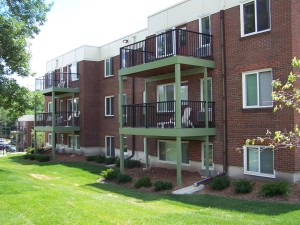 Project Name: Rolling Hills Apartments
 Client: RC Enterprises and Lutheran Social Service of MN
 Landon Group Role: Project management; secure financing; draw management
 Address: 1332 North Mississippi Street, Saint Paul
 Project Cost: $13.4 million
Financing: 9% Low Income Housing Tax Credit Equity; Deferred financing from Minnesota Housing, City of Saint Paul, Family Housing Fund; Debt financing – Sunrise Bank
 Project Size: 108 affordable rental units
 Contractor: Frerichs Construction Company
 Architect: Cermak Rhoades Architects
Rolling Hills Apartments has historically served low income households including recently arrived immigrants and refugees.
Rolling Hills was completed through a for-profit and non-profit partnership. Rich Pakonen and Clint Blaiser of  RC Enterprises partnered with Lutheran Social Service of Minnesota to develop this project that houses many Burmese, Bhutanese and Karin refugee families.
The scope of work for Rolling Hills included the new construction of an on-site community building with community gathering space and offices for property management staff, case workers and other social service providers. The community building includes an apartment unit which can be used as a "first stop" for refugees new to Minnesota – keeping them close to the services that are crucial to their success for integration into American life.
Other improvements of the Rolling Hills complex include the upgraded tot lot with a strategically designed circular sidewalk for children to race their tricycles. The existing gardening areas on site were also expanded, particularly so that the refugee families whose cultural backgrounds find special significance in cultivating land have the opportunity to do so.